Hi y'all! First and foremost Happy Birthday America! I may not blog tomorrow. We have some stuff planned. Today I did a total of 1.41 miles while shopping and then I did an additional 55 minutes for my regular walk which made a total of 2.9 miles today. I did walk with my weights today. I can really tell a difference in my arms not being as fat. They are still fat but nothing like before. My pants are still fitting better and I have got to remember to punch that hole in my belt! I was again very tired today but I huffed it down the road anyway. I had to listen to one song because my battery was low but at least it lasted for the walk on a red battery. Good old iPod!
I learned a new trick today. When I am going up the hills and I get completely winded, and by the way there is only ONE, count them ONE, on the walk that does that to me, I figured out how to easily get through it–I put my head down, put my weighted hands on my hips and concentrate on the pavement and gravel while singing a little louder in my head to my tunes. This totally distracts me and before I know it I am at the top! Hey if it works, go for it I think. Whatever little things it takes to get me through, I am for it. And, by going back to work, I may be able to walk with my ladies in the PM and finally get in the extra exercise I have been needing, at least two days a week. I don't want to go gung-ho and wear myself totally out the first dash out of the box. But even today at Wal-Mart I noticed that my back wasn't bothering me so bad, I was NOT huffing and puffing or getting completely exhausted from the get-go and I was able to keep going. I am noticing so many changes and I am so thankful to God and to the Dr for getting me straightened out. I was tired as my title states but I kept it going and have to. Also I am down to only one short break, about 20 seconds, enough to make blog notes, catch my breath and let God's cool wind He sends me every day cool me off. Then I am back on. The other hill that I had to stop in the middle of on the way back, I go right on up it now. It seems that once I get going the huffing and going up hills gets better after I get warmed up. Maybe I just huff it out on the one hill and my body isn't interested in huffing anymore. Whatever it is, it works.
I can't really tell a difference in times of walking either other than I feel like I have everything accomplished when I walk in the morning. I am not sure if you are supposed to feel a difference in different times of the day walking or not. If I walk in the evening I have something to look forward to when I get home. Either way, I don't feel different other than the feeling healthier that I have been feeling now for a while. Monday will be week 11 of diet and 10 of exercise. Go me! I absolutely love walking now and I look forward to it. I can't wait to get walking when it is time to walk. I like to pretend that I can feel myself getting healthier. Today though we walked shortly after noon and it was hot. And muggy. I did see one dragonfly but the little gnats that try to fly in your eyes were everywhere! The point is I walked in the heat because I usually don't do heat well. I am going to be out in the heat in a ballgame in a few weeks and I need to get myself acclimated to that or being out in any heat I choose to be in. This is good practice and a way to build a resistance.
I have just been glad to have the day to do whatever. The dogs and cats have swarmed all over me all day and I was glad to see them. My back is finally unwinding and my knees are unlocking but I will say when I was walking I felt some weird clicky sensations coming from there. I hope they keep themselves intact but the sitting this week would kill anyone.
The Blog Centre listed me as on of the #ff for today. Thank you very much! I love being able to get my blog out there so others can see it.
#FeatureFriday#blogstofollow#sharethelove#FF@poothead@Verushka143@Br0nwynBJN@randommusings29@susanpajaro Thanks for the support

— The Blog Centre (@theblogcentre) July 3, 2015
I think I will do a few more of the 30 day writing challenge. I may do almost the rest of them. Don't stop reading here! There are some interesting ones coming up!
Day 18— Post 30 facts about yourself. Ok here goes.
Jesus is my Savior.
I love to write.
I have met Rob Thomas.
I love to drive.
My favorite foods are mushroom and Swiss burger or pizza.
I am becoming an exercise addict.
I have two children.
Chihuahuas are my favorite dog breed and I have one.
I also love Min Pins and I have one.
When I shop I grab the second one back in the row. Who knows what may be up with the first one!
I LOVE sweet tea.
I love to read.
My dream car is a Camaro with all the ground effects.
I want to go to Ireland someday.
It wouldn't take much to convince me to move to Louisiana, near the swamp right outside New Orleans.
I am allergic to honey.
I am loving water as much as I do sweet tea.
My dream job would be to write professionally.
My hero would have to be my brother.
Stupidity is the one thing I cannot tolerate.
I love going to big cities
I get to meet The Fray in a week and a day.
I have been married for 17 years.
I am working on my Master's degree in Electronics and Computer Technology.
I am going back to work in the group home I worked at before.
My son has beat leukemia!
I get hot and sweaty very easily, even in below 0 weather.
I love to blog!
I don't judge anyone for any reason.
I think that if you don't own a 4×4, it isn't worth having.
Day 19–Discuss your first love. Well that had to be, other than a pet, George Peppard from the A-Team. That probably gives away my age huh?
Day 20–Post about three celebrity crushes. Oh my. I gotta make it four. Ok obviously Rob Thomas. I love the Impractical Jokers so would that count for 4? Ben Gleib obviously. And last but not least, Michael Weatherly. DiNozzo on NCIS. And please know I like all these for very different reasons and not just the obvious although they aren't hard on the eyes. 🙂
Day 21–What three lessons do I want my children to learn from me? This may not be a lesson but love Jesus and please look at things from a different point of view than anyone else. And keep things where they are never boring.
1. You do not have to put up with any crap from anyone. Period.
2. Work for what you have so you can always be self-sufficient.
3. Please use common sense and avoid stupidity.
Day 22–Put your music shuffle and post the first 10 songs.
Sons of Jezebel– Whoo Boy
Pink–Family Portrait
Rob Thomas–Streetcorner Symphony (One of my favorites!)
Steve Earle–Copperhead Road
Ratt–Dance
Nickelback–Burn It To The Ground
Magic!–Rude
Pink–Sober
Michelle Branch and Santana–The Game of Love
Bon Jovi–Always
Day 23--A letter to someone, anyone–Hi kids! There are four things that you also need to know. There is good in everything, even in the most awful of situations. Please look for it. Also, there is humor in everything too. If you can't laugh, what is the point? Live each day to the fullest. And NEVER forget to tell those around you how much they mean to you even if they are sick of hearing it. Life is too short to let people go without knowing what they truly mean to you. These four jewels of advice will carry you through life no matter what. Love, Mom
Day 24–Write about a lesson you have learned the hard way. The one thing I have learned the hard way is how to take care of money. Every time we have ever taken out a loan or tried to do something new it seems life has attacked and things have gotten messed up. I try to avoid that now and take better care of stuff. You don't learn these things until you get older though.
Day 25—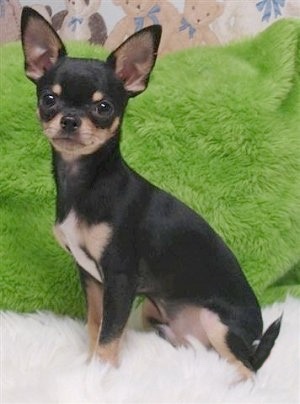 Search any word in Google Images and write about the 11th image. I searched Chihuahuas. That little one is so adorable! I love animals so much!
Day 26–Write about an area of your life you would like to improve. I do that every day. My weight and self-image–I have to drop weight for my health. The benefit is I will look awesome when I am done!
Day 27–Conversely, write about something that is kicking "butt" right now. I have gotten to talk to some really cool celebrities on Twitter. I hope I keep getting to!
Day 28–Post five things that make you laugh out loud.
Impractical Jokers
Stupidity at times.
Auto-correct on my iPhone
Ben Gleib
My radical dreams.
Day 29–My goal for the next 30 days, or goals, are to keep walking, tighten down my carb control, refresh on how to do my job at work, keep blogging, gain more followers, see another Reds game, meet The Fray, and start back to school for the Fall semester.
Day 30–My highs and lows for the month–July has just started but I have my job back and I am still exercising. My lows, well, being broke. That will change with my job.
That is all of that one! Interesting stuff there. Annie, you pick our next one ok? And that is all for tonight! Have a great night y'all and a safe and wonderful 4th!
–S